CLARKSVILLE — Seanna Kidd has never had a Christmas tree.
She can't afford a traditional tree this year, especially since her first son is due a few days before Christmas, but the 20-year-old won't let that stop her.
"I was never really allowed to celebrate Christmas so I was, just like gung ho crazy for Christmas, and everything is going to have glitter all over it," she said.
Kidd is holding three triangular Christmas trees she's made from a pack and play box her New Hope Services Inc. Healthy Families case manager Amy Speedy gave her.
She wrapped the trees in glitter wrapping paper from her boyfriend, and now she just has to figure out where to put them to decorate their apartment.
"She was like, 'I'm dying to use that box as a tree' and I was thinking, how are you going to make aa tree," Speedy said, adding that Kidd is very creative.
Kidd moved to Southern Indiana a few months ago with a cousin. She's from Denver, Colorado.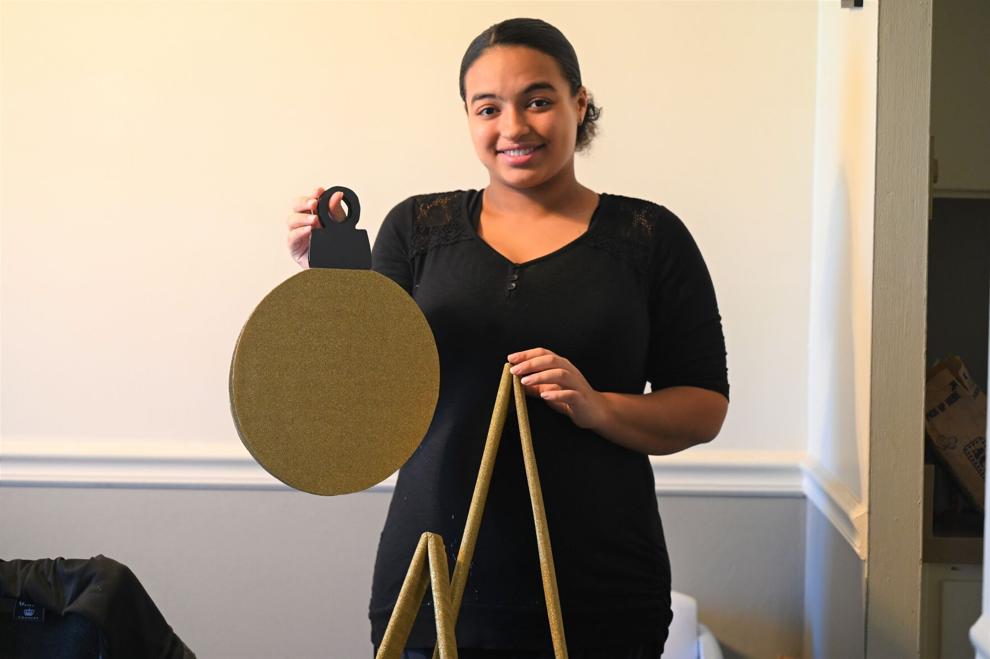 "I was in a really tough situation in Denver and it was either move here with (my cousin) or pretty much be homeless," Kidd said.
Now she's pregnant and navigating a new world.
She said she was extremely sheltered as a child and she didn't even know her own age until last year.
"I didn't know anything at all, I didn't go to school, I didn't have friends, but I got out of my parents' house and I was 19," she said. "I thought I was turning 16, I was like I can't take this anymore."
Her grandmother helped her get her birth certificate, which told her how old she was.
"Whenever you grow up thinking you were born in 2003 and you were born in 2001 its kind of like, oh, I kind of missed two years of my life," she said.
Now as she and her boyfriend prepare for her new son, she's hoping for Wish Book items to help.
At this point she said they could use "everything," including more diapers, baby clothes and toys.
For herself, Kidd said postpartum clothing would be helpful, along with any parenting books as well.
Speedy said New Hope Services Inc. Healthy Families works with mothers during pregnancy and stays with them until the child is 3-years-old. During that time period she will be helping Kidd with parenting skills and more.
"She left with nothing but a bag of a few clothes, she's going to create the family she wants, I want her to have those things to start her motherhood," Speedy said. "To have those things she needs to give her son what he needs – just exciting for her to celebrate Christmas for the first time ever."
To donate to Seanna's wishlist: https://www.amazon.com/registries/custom/2YS0ROOWQCWGL/guest-view.
.